Rock Assault Fully-Built Front Axles
SKU
Rock Assault Fully-Built Front Axles
Rock Assault™ Fully Built Front Axles
You asked for it and we delivered!  Trail-Gear is now offering Fully Built Rock Assault™ Front Axles! Made entirely of brand new parts, these axles feature everything you need hub-to hub! The only additional items you will need to make this kit work are a pair of tires and a vehicle to bolt it on to.
This is a fully assembled front axle made entirely of brand new, upgraded components, not refurbished junkyard parts. The Trail-Gear Fully Built Rock Assault™ Front Axle features your choice of Toyota Rock Assault™ Axle Housing width, and comes with upgraded Longfield 30-Spline Birfields & 30-Spline Chromoly Axle Shafts, our Fully Loaded Six-Shooter Knuckle Kit, Chromoly Spindles, upgraded Brake Rotors and Calipers and a heavy-duty tie rod and drag link, all expertly assembled by our Master Mechanics! Each Fully Built Rock Assault™ Front Axle will include Trail-Gear's upgraded Trail Safe™ Seals and Super Metal Knuckle Studs in addition to all other necessary nuts, bolts and seals. Axle options listed below. Save the time, money and hassle of ordering each component separately and building it yourself.  We've already taken care of it!
Customize each axle to exactly what you need with your choice of:
Axle Width
Axle Offset
Differential
Hubs or Flanges
NOTE: Axle Gussets are not included.
Important Notes:
These fully built axles are bare and designed for leaf spring applications only! No other bracketry should be welded onto assembled axles.  If you are interested in purchasing this kit for 3-link or 4-link applications, we can send all components for your assembly. Please contact our Sales staff for details.
In order to achieve full ground clearance, you will need to grind the bottom of the differential housing flange flush with the axle housing!
Note: Follow Ring & Pinion break-in instructions on the Instructions tab.  Failure to do so will void warranty.
WARNING - Cancer and Reproductive Harm - www.P65Warnings.ca.gov
Details
59" from WMS to WMS
Knuckle balls are forged from 1035 steel
The axle tubes have been offset above the housing centerline, so the inner axles ride near the bottom of the axle tubes rather than in the center
Increase of 3/8" in ground clearance under the axle tubes
5/16" thick, high strength DOM axle tubes that engage 5/8" further into the center section and the 360° gusset welded around the tubes on the inside of the housing
Heavy-duty, press formed, 1/4" plate steel center section shell is specially shaped to ensure a minimum of 3/4" additional clearance under the differential
Differential mounting surface is made from 1/2" plate steel
Customize each axle to exactly what you need with your choice of:

Axle Width
Axle Offset
Differential
Hubs or Flanges
Note: These fully built axles are bare and only for Leaf Spring applications. No other bracketry should be welded onto assembled axles. If you are interested in purchasing this kit for 3-link or 4-link applications, we can send all components for your assembly. Please contact our Sales staff with any questions.

TOYOTA PICKUP
(1979-1995)

1979 Toyota Pickup
1980 Toyota Pickup
1981 Toyota Pickup
1982 Toyota Pickup
1983 Toyota Pickup
1984 Toyota Pickup
1985 Toyota Pickup
1986 Toyota Pickup
1987 Toyota Pickup
1988 Toyota Pickup
1989 Toyota Pickup
1990 Toyota Pickup
1991 Toyota Pickup
1992 Toyota Pickup
1993 Toyota Pickup
1994 Toyota Pickup
1995 Toyota Pickup

TOYOTA 4RUNNER
(1985-1995)

1985 Toyota 4Runner
1986 Toyota 4Runner
1987 Toyota 4Runner
1988 Toyota 4Runner
1989 Toyota 4Runner
1990 Toyota 4Runner
1991 Toyota 4Runner
1992 Toyota 4Runner
1993 Toyota 4Runner
1994 Toyota 4Runner
1995 Toyota 4Runner

TOYOTA TACOMA
(1995-2004)

1995 Toyota Tacoma
1996 Toyota Tacoma
1997 Toyota Tacoma
1998 Toyota Tacoma
1999 Toyota Tacoma
2000 Toyota Tacoma
2001 Toyota Tacoma
2002 Toyota Tacoma
2003 Toyota Tacoma
2004 Toyota Tacoma
Ring and Pinion Break-In Procedure:
New 3rd members require a break-in period to prevent damage from overheating. Any overloading or over-heating during this period can cause the gear oil to break down resulting in ring and pinion failure.
After installation, drive lightly for 20-30 minutes and then allow the differential to cool for at least two hours
Avoid heavy throttle use during the first 500 miles
Do not tow a trailer during the first 500 miles
Change oil after 500 miles to remove any particles suspended in the oil
This may seem unnecessary but it is very easy to damage the differential by loading it before the gear set is completely run in. New ring and pinion gears create excess heat when they are new. This excess heat can damage the heat treatment of the gears.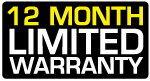 Trail-Gear 12-Month Limited Warranty Policy
This product carries our 12 Month Limited Warranty. All warranties are limited to the original purchaser and are not transferable to subsequent owners of the product. The warranty period begins on the purchase date.
Trail-Gear warrants that it will repair or replace, free of charge, any eligible product which, under normal conditions of use and service, proves to be defective in materials or workmanship. This warranty does not cover any labor costs incurred in diagnosis of defects, removal or reinstallation of a product, nor does it cover any other consequential expenses.
Please download, review and follow the instructions outlined in our Return, Exchange, Warranty Form before shipping any product(s).
Warranty Exclusions
Trail-Gear Inc. warranty does not cover, and Trail-Gear Inc. shall not be liable for, any undertaking, representation, or agreements made by dealers or other third parties selling Trail-Gear products, except where such agreements are within the provisions of this Warranty.
Specifically excluded from this warranty are failures caused by lack of maintenance, misuse, negligence, modification, abuse, improper application, crash damage, installation or operation, or failures caused by unauthorized service or use of unauthorized parts.
Additionally excluded from this warranty are parts which are subject to normal wear and tear, such as bushings, fluids, hoses, gaskets, belts, etc. Products not manufactured by Trail-Gear Inc. are excluded from any warranty and shall be handled with the original manufacturer.
All parts used in a competitive racing environment are excluded from this warranty. If, after inspection, a part returned, under any warranty, is deemed to be ineligible for warranty repair or replacement, the part may be repaired or replaced for a discounted cost. Return shipping charges will apply. Any part for which a warranty replacement is sought must be returned to Trail-Gear Inc. before any replacement items can be shipped. All replacement parts shipped before the suspect part has been received and evaluated by Trail-Gear, MUST BE PAID IN FULL. In such a case, after the suspect part has been received and approved for a warranty replacement, the purchase price for the replacement will be refunded.
Warranty Claim Procedures
Please contact Trail-Gear Inc. at 559-252-4950 or email

[email protected]

prior to returning any product(s) under warranty to verify that warranty is still in effect.
Please place a clearly marked copy of the original invoice on the outside of product packaging.
Please include a short note stating the problem you are experiencing.
Products must be shipped back to Trail-Gear Inc. at the expense of the customer.
Shipping Address
Ship all products to:
Trail-Gear, Inc.
Attn: Warranty
5356 E. Pine Avenue
Fresno, CA 93727

Important Notes:
If any of the above mentioned policy is not met, the package will be refused or warranty claim denied. Completing the steps above will ensure faster processing of your claim so that Trail-Gear can get your product back to you as quickly as possible. All warranties are generally processed within 2-3 business days of Trail-Gear receiving the parts from you. Additional delays may be incurred if product needs additional testing or repair.
Customers outside of the United States should email the warranty department at

[email protected]

to receive further instructions. These customers may have the option to "field destroy" an approved warranty to avoid costly return shipping. In this case, any shipping charges for replacement parts will be at the expense of the customer.